EXAIR has an extensive static control product line called the Gen4 Static Eliminators. In this blog, I will cover our smallest unit, Model 8199 Gen4 Ionizing Point™. They are a low-cost solution for point-of-use targeting. They are UL Component Recognized as well as CE compliant in safety and electromagnetic compatibility. EXAIR was also able to keep compliant with RoHS and REACH with our updated product design.
Static is all around us. It is caused by non-conductive materials having their electrons move from one atom to another. When parts get bumped, rubbed, or peeled; static can be generated. Process problems will start to appear like jamming, alignment, debris clinging and hazardous shock to personnel. The Gen4 Ionizing Point is a single point ionizer and is a great solution to remove static chstatic discharge, static arges within in small compact areas. And they can be used in air duct systems that already have their own air supply to blow ionized air.
The Gen4 Static Eliminators are specifically made for rugged industrial use. And the Gen4 Ionizing Point falls into that same group. It may be small, but it is durable. The high voltage cable has a robust construction; made from a PVC coated, stainless steel armored cable to withstand many common hazards and abrasions. The ionization is created by a stainless steel emitter point which is removable and replaceable. This helps to insure continuous problem-free operations. And once the emitter point wears from use, it can be replaced very simply and economically. The Gen4 Ionizing Point comes standard with a 5-foot (1.5 meter) cable; but, other cable lengths up to 50 feet (15 meter) can be made upon request. This shockless design has an integrated ground to connect the Gen4 Ionizing Point to the Gen4 Power Supply. Thus, no separate ground connections are required.
The ionizers are powered by a 5,000 Vac Gen4 Power Supply. The input voltage is selectable for either 115Vac or 230Vac in both 50/60 hz; and, the alternating current will create both negative and positive ions. So, no matter what type of static charge is on the surface, the Gen4 Ionizing Point will be able to remove it. The Gen4 Power Supplies come in either a 2-port or 4-port design; so, you can power multiple ionizers with one power supply. Together, they can eliminate static very quickly; even at 2" (51mm) from the surface.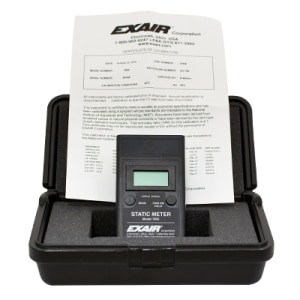 Some industrial areas that could use the Gen4 Ionizing Point would be slitting, trimming, hemming, winding, labeling, or for neutralizing duct air. Static is an invisible force that can cause many issues and problems. To find if static is a problem in your application, EXAIR does offer a Digital Static Meter, model 7905, to measure the amount of static in kilovolts. It is a great tool for finding problem areas in your process as well as determining the effectiveness of the treatment.
How could this get any better for our U.S. and Canadian customers? EXAIR is offering a free promotional item, an AC Sensor, with a purchase of any of the Gen4 Static Eliminators until February 29th, 2020. This is a $58.00 value which you will get for free. This sensor provides a non-contact way to verify if voltage is present. A red light at the tip will glow, and an audible tone will sound when voltage is detected. The model 7929 AC Sensor is an ideal tool to quickly verify that power is going to your ionizer. This instrument will also work for finding power in receptacles, junction boxes, switches and breaks inside power cords. Batteries are included, so you can start using it right after purchasing a robust Gen4 Static Eliminator, including the Gen4 Ionizing Point.
If you find that static is creating process difficulties, wasting time, and costing you money, EXAIR has a large line of Gen4 Static Eliminators that can help you. We stock product from 108" (2743mm) wide down to the Gen4 Ionizing Point. If you would like to discuss further, you can contact an Application Engineer at EXAIR for help in selecting the correct model for your static problems
En caso de necesitar asesoramiento sobre los datos obtenidos, u otros relacionados, no dude en contactarse con nosotros.